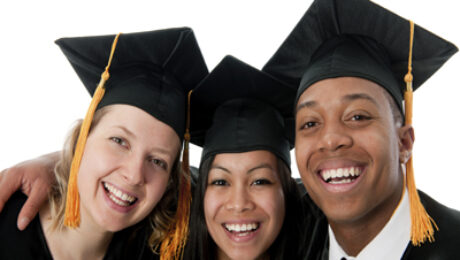 There are four good reasons for any international student to study at a Polish University: safety, quality, costs and jobs
Safety: There are various ways a student might be unsafe, especially when s/he is thousands of miles or kilometers away from home. Some countries may have higher rates of certain kinds of crime which may present a danger to unsuspecting outsiders, while in some certain places there may be too many distractions for a healthy study environment. Poland is a country that scores very high on all counts of safety statistics and in terms of a healthy, clean and green environment in which to live as well. According to the Global Peace Index (2022), Poland is ranked number 25 out of 163 of the safest countries in the world (United States ranks at number 129, France – 65, United Kingdom – 34). Poland is a place where both locals and travelers feel safe. Parents can rest assured that their loved ones will be studying peacefully wherever they may be in Poland.
Quality: On average Poland is one of the best countries in the world in quality of education. This is one of the reasons lots of Polish people are able to find well-paid jobs in other European countries or places like USA, Canada or Australia. Poland's educational institutions score high in international rankings. Polish children are the third best in Europe at maths and science, and fourth best at reading comprehension, according to the latest PISA (the Programme for International Student Assessment) international rankings (2018). Poland's quality of education is steadily improving – there were 6 of its universities in the QS World Ranking of 2016 and 19 universities in 2022.

Costs: This is where Poland separates from the pack. There aren't many destinations in the world where one can study in English and receive a good education at very affordable rates. Poland gives this opportunity to practically anyone. You don't have to be rich or even a high achievement student to be accepted by a Polish university. Polish universities emphasize creating opportunities for students over academic rigour, so even with a relaxed attitude school work should be manageable.
An annual tuition fee in Poland starts with as little as 850 Euro (ca. 870 USD or 715 GBP). A typical student will pay an annual tuition in the range of 2,500-4,500 Euro (ca. 2,600-4,600 USD or 2,100-3,800 GBP). The living cost will also be in the same range. Thus, total tuition and living costs for a year will be in the range of 5,000-9,000 Euro depending largely on the student's spending habits.
Jobs: Poland is the only country in Europe whose economy never stopped growing in the past two decades when many European countries actually got smaller in terms of economic growth. This means Poland has jobs for young people where others don't. More important than that for international students is Polish government attitude towards them. In some countries local work force is favoured above and beyond an international one but Poland gives opportunities to international students to stay and work after receiving a degree if they wish to do so. But it also lets them work part-time during their studies to support themselves financially and gain professional experience.
When a student arrives Poland s/he needs no work permit to work part-time or even for a full-time job when school is finished. The simple fact of finishing a Polish university entitles them to sign an employment contract without a work permit. This is a huge advantage for anyone who would like to stay and work in the EU.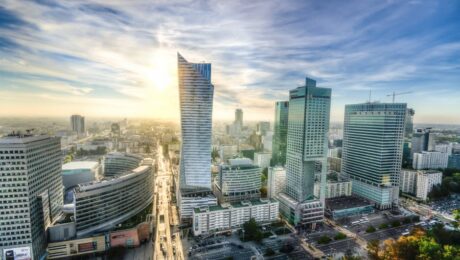 Warsaw is one of the most beautiful and sophisticated cities in Central Europe with the enormity of things to see, an impressive cultural scene and exciting nightlife. It is the largest city in Poland, an economic, cultural and educational cradle of the nation. Its role and importance in Europe continues to grow.
When walking along the streets of Warsaw you can often hear young people speaking foreign languages. Many of them are students who see Poland as an attractive place to study, comparable with the countries of Western Europe. Thanks to friendly atmosphere and openness of inhabitants of Warsaw they were able to settle in Poland, find new friends and common interests.
In Warsaw there are many student pubs and clubs where you can meet with friends, dance or go to the concert. Famous DJs from around the world are beginning to come to Poland enlarging the Warsaw club scene. New bars and nightclubs are open every day. Nightlife in Warsaw is scattered around the city. More and more pleasant clubs and pubs are also opened on the outskirts of the city.
There are organized numerous events to promote the cultures of other countries. Warsaw is also the capital of Poland, so there are embassies of countries with which Poland established diplomatic relations. Representatives of embassies often take an active part in the cultural life of Warsaw, by organizing fairs and cultural events to present the culture of their countries. As a result Polish people are becoming more tolerant and open-minded.
*http://en.vizja.pl/warsaw-a-city-of-possibilities,a193.html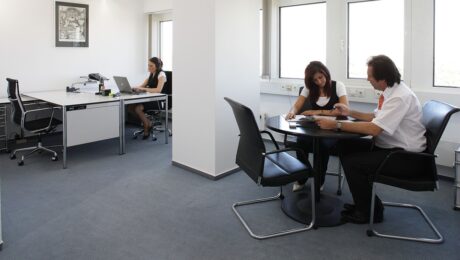 Poland is one of Europe's up-and-coming study abroad destinations. As a historical center of learning and culture, Poland has produced many great men like Nicholas Copernicus, Chopin and Marie Sklodowska Curie. Higher education in Poland started in the middle ages. In 1364 the first Polish university (later called Jagiellonian) was created in Cracow. Many higher education institutions were established after World War II but the communist regime imposed on Poland stifled economic and intellectual growth for many decades. After 1989 higher education in Poland changed dramatically. Borders were opened, leading to free mobility and autonomy of universities in curricula and management. New laws concerning higher education, convertible Polish currency, easy communication, (telephone and Internet), and access to European education and research programs made higher education more accessible. Poland today is a member of European Union and has a thriving economy. It is also becoming a hotspot for tourism, Silicon Valley companies and, most importantly, international education. Studying in Poland is becoming an attractive, affordable option for many people who want to work and study abroad.
Due to its economic success and quality of educational institutions, Poland attracts an increasing number of students each year, currently having around 60 000 international students. Poland offers them very competitively priced education in a very safe environment. Apart from being very affordable, Poland gives opportunities to international students to stay and work after receiving a degree if they wish to do so, but it also lets them work part-time during their studies to support themselves financially and gain professional experience.
With low living costs and very clean and green civilized cities, Poland is one of the few places on earth where you can have the luxuries only the rich can afford. For instance, owning your own house, garden and cars is not a big deal for most Polish people for the simple fact that they can be purchased quite cheap compared to other countries. When they have jobs, people can afford. And jobs are not hard to come by for people with qualifications.
For some informative articles on Poland please refer to the links below