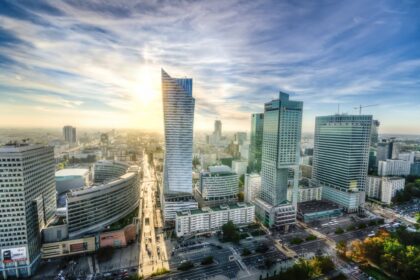 Warsaw is one of the most beautiful and sophisticated cities in Central Europe with the enormity of things to see, an impressive cultural scene and exciting nightlife. It is the largest city in Poland, an economic, cultural and educational cradle of the nation. Its role and importance in Europe continues to grow.
When walking along the streets of Warsaw you can often hear young people speaking foreign languages. Many of them are students who see Poland as an attractive place to study, comparable with the countries of Western Europe. Thanks to friendly atmosphere and openness of inhabitants of Warsaw they were able to settle in Poland, find new friends and common interests.
In Warsaw there are many student pubs and clubs where you can meet with friends, dance or go to the concert. Famous DJs from around the world are beginning to come to Poland enlarging the Warsaw club scene. New bars and nightclubs are open every day. Nightlife in Warsaw is scattered around the city. More and more pleasant clubs and pubs are also opened on the outskirts of the city.
There are organized numerous events to promote the cultures of other countries. Warsaw is also the capital of Poland, so there are embassies of countries with which Poland established diplomatic relations. Representatives of embassies often take an active part in the cultural life of Warsaw, by organizing fairs and cultural events to present the culture of their countries. As a result Polish people are becoming more tolerant and open-minded.
*http://en.vizja.pl/warsaw-a-city-of-possibilities,a193.html